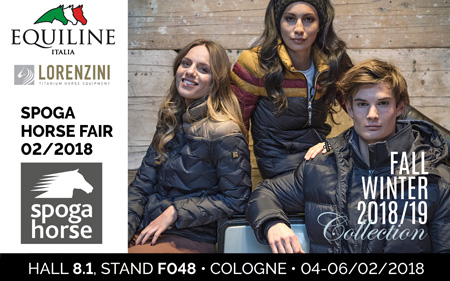 EQUILINE fall winter 2018/19
SPOGA HORSE 2018.
4 – 6 February
Nicola Verardo for Equiline  at Spoga Horse 2018 to see the New Collection A/W 2018 and the New Competition Line, inspired by the elegance of the timeless Italian style.
Take a look to our X-Shape Riding Breeches: a new fit design for your
well-being with inner and outer special inserts created to support the body and the balance while riding. Three different ways to dress up the modern X-Shape with patented technology: knee, half and full grip.
Equiline expands its success with the introduction of its Saddle Division.
An innovative line of saddles that are revolutioning the way of riding .
Without forgetting the unique proprieties of LORENZINI horse equipment the
S1 – SAFETY FIRST stirrup by SAFE-RIDING which combines safety, elegance and endless possibilities of customisation all into one